Matthews Locks Up PGA TOUR, Qualifies for U.S. Open.
Jun. 13—A whirlwind week for Dupont native Brandon Matthews is over. Another is just beginning.
Six days after securing a spot in this week's U.S. Open, the 27-year-old golfer locked up his spot on the PGA Tour for the 2022-23 season.
Matthews came into the Korn Ferry Tour's BMW Championship needing a finish of 36th or better to lock up his PGA Tour card. He placed tied for 15th by putting together four straight rounds in the 60s, including a closing 4-under 67 that featured a pair of eagles in a four-hole stretch.
"It's great," Matthews said. "You know, obviously I wasn't thinking about trying to finish tied for 36th or anything, just trying to continuously have good weeks, play good, trending in the right direction and obviously some good momentum going into this week."
Playing in the U.S. Open at The Country Club in Brookline, Massachusetts, on the heels of a career-changing week might seem like a dream. Matthews views it differently.
"It's reality now, right?" Matthews said. "It's something that I've wanted to do my entire life. The fact that I officially achieved it today is amazing, but I've got to keep my head down here and continue to play some good golf to round out the year because if I can lock up that No. 1 spot by the end of the year, that's a massive deal.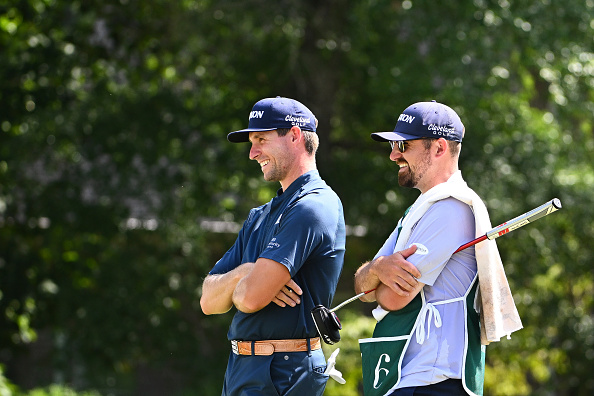 "It gets me into the U.S. Open next year guaranteed. It gets me into all the invitationals, so it gets me a lot better status than say, finishing fifth or 10th on the money list. Being able to do that is a big deal and that's where my focus is going to be for the remainder of the year."
As for right now, that focus will turn toward his first major championship, which will be played at a course he knows and likes. Matthews reached the quarterfinals of the U.S. Amateur at Brookline in 2013.
"It's not like I'm going to a golf course I've never played or I'm very unfamiliar with," Matthews said. "I'm not only familiar with it, I have very good memories there. So, it's exciting that my game is heading in the direction it's heading and I'm going to a place I have very good memories at and a course I feel very comfortable on."
Sunday's final round was just the sendoff Mathews needed.
He knocked in an eagle putt on No. 2 and duplicated that on No. 5, followed by a birdie on No. 6 that put him in a great frame of mind.
"One hundred percent," Matthews said. "I missed a 5-footer for birdie on No. 4. I hit a really good putt but misread it, and left two putts dead in the heart on one and three. I'm standing there on the seventh tee where, if I hit a couple putts harder and make that 5-footer, I'm 8 under and I'm only a couple shots off the lead.
"So, again, everything is trending in the right direction. Whether it's a couple putts that fall, you're not making that one little mistake per round. And just being really conscious of everything this week. Obviously, U.S. Opens are a completely different animal than anything else in golf. So, just do the proper preparation, make all the right decisions and I think we're going to be in good shape come the end of the week."
Those minor mistakes get magnified in a major way at the U.S. Open, but Matthews is more than optimistic.
"It's a completely different kind of golf tournament, but it's just another tournament on the schedule this year that I have an opportunity to win," Matthews said. "It's just a little bit of a very, very small mistake here or there. They're basically once a round. So if we can clean that up and clean it up this week, I think we can have a really big week up there.
"I tell everybody, if I didn't think I could go into this week and win, I need to go find another job. I think I can be one of the best players in the world and that's what I'm working toward. For me to go into this week and be incredibly nervous, obviously I'm very excited, but to be incredibly nervous and not totally believe in myself would defeat the purpose of what I've been working on and the way I've been approaching things for a long time."
Story Written by Marty Myers for the Scranton Times Tribune