Brandon Matthews Strives For PGA Tour
Many professional golfers are extremely superstitious.
For Brandon Matthews, a 2016 adult and organizational development alumnus [of Temple University] and current player on the Web.com Tour, superstition starts with the quarter he uses as a ball-marker.
"I will never use a quarter that is above the year 1969," Matthews said. "If I have a 1974 quarter, to me that is like shooting 74."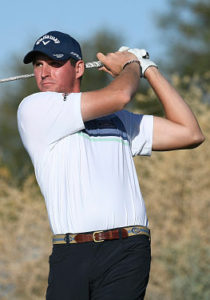 Matthews moved from 103rd on the Web.com Tour to 74th after he tied for 10th at the North Mississippi Classic last weekend. He hopes to finish the season within the top-25 money winners to earn his PGA Tour card.
Matthews's girlfriend Danielle Maslany gave him a special quarter for Christmas this year.
"When we get change, we look at the date of all the quarters," said Maslany, a 2013 journalism alumna who met Matthews through an interview she conducted for OwlSports Update. "I went online and found a 1959 quarter and bought it for him. I don't think we will ever be lucky enough to find one in circulation, so I thought it would be cool to get him one to use."
Maslany has seen several of Matthews's most successful finishes. At Temple, Matthews won eight times as an individual. Just five months into his debut on the PGA Tour Latinoamérica, Matthews won at the Molino Cañuelas Championship in Argentina in March 2017.
He became the youngest American to win a PGA Tour Latinoamérica event.
"Winning so early took a lot of stress off of me," Matthews said. "Throughout my career as an amateur, I always tried to be the best that I can be. Going out and winning was really nice but something that I expected as a competitor."
Matthews ranked 10th on the PGA Tour Latinoamérica's Order of Merit in October 2017, which allowed him to make it to the final stage of tour-qualifying school. His high finish at q-school qualified him for the first eight starts of the Web.com Tour.
Matthews only competed in five of those eight possible starts because of food poisoning and a back injury. He has had back problems since high school and regularly sees a chiropractor.
"It's a learning process," Maslany said. "He is identifying how to better care for his body, and we make changes to incorporate that into our life."
Matthews said he stretches for an average of 30 to 45 minutes each morning while also watching what he eats and maintaining a healthy lifestyle.
"It is an annoying thing because I have to do things 55-year-olds have to do in the morning as far as stretching goes," Matthews said. "I shouldn't have to do this at 23 years old."
Despite back issues, Matthews's average drive this season goes 313.3 yards, which ranks fourth out of more than 150 players on the Web.com Tour. He also has a 4.16 birdie average, which is 14th-best on the tour.
Matthews said he relies heavily on his caddy, Jon "Sunshine" Lehman, for direction, especially when it comes to putting.
During the Pinnacle Bank Championship in Omaha, Nebraska, in July, Lehman was on the bag for Armando Favela, who had a rib injury. Matthews qualified for the tournament through a sponsors exemption, a spot offered to a player by the tournament's title sponsor when the player has not already qualified for the event. Matthews asked Lehman to be his caddy, and they have been together ever since.
"Brandon calls me in on nine out of 10 putts," Lehman said. "He wants that opinion, and I love that because it makes me feel more involved."
"Brandon is really good at driving the golf ball and is a superior ball striker," Lehman added. "I have been with a lot of guys, and I have never seen anyone hit it as good as he does."
Matthews has finished tied for 41st, tied for 56th, tied for 34th and tied for 10th in the four tournaments he made the cut for so far this year, resulting in a season's earnings of $19,329.
Both Maslany and Lehman believe Matthews will make it to the next level. It is just a matter of when.
"I don't want to jinx him or anything, but within the next year he will be on the big tour," Lehman said. "He just has that kind of firepower and next-generation game that can kind of take over."
"Realistically, it takes one really good week and one solid week to make it," Matthews said. "I have 20 more tournaments left, and I think it is a reasonable possibility that I get there. It is all about fine-tuning my game and just putting it all together."