Golf Digest Profile: Justin Lower at THE PLAYERS
PONTE VEDRA BEACH — Justin Lower has so many stories to tell it's difficult to pick just one. Some golf fans may recall the awful tragedy the Ohio native experienced as a teenager when he lost his father and brother in a single-car accident. Just last season Lower three-putted the 72nd hole of the Wyndham Championship from 61 feet to lose his PGA Tour status by one shot last season. Then there's the fact that he is the equivalent of a scratch handicap at bowling, and once scored 269, which he says is like shooting 62 in golf.
But then there is this Tiger Woods story. Lower, now 33, grew up in the Akron area of Ohio and was 11 when Woods hit his famous "shot in the dark" at the 2000 NEC Invitational at Firestone. A storm delay forced Woods and Hal Sutton to finish the final round in near-darkness at 8:30 p.m. Woods, fresh off beating Bob May to win the PGA Championship, hit an 8-iron from 168 yards in darkness on Firestone's 18th hole that settled to two feet. He tapped that in for birdie and recorded an 11-shot win.
Lower was in the gallery. Sort of.
"He hit the shot as I was leaving the course, but I heard the roar," Lower told Golf Digest at the Players Championship, where he is making his event debut.
Did he kick himself for leaving early?
"A little bit, but I was 11 at the time," he said.
Lower received a mulligan. The following day, Woods conducted a junior clinic at Firestone's course across the road at 7 a.m. "I got to witness the clinic that next morning with Tiger and Butch Harmon [Woods' coach at the time]," Lower said. "Butch was like, 'What kind of shot do you play when you're really swinging it great?' Tiger was like, 'A two-yard draw every time.' Butch then asked him to hit it and, with a 6-iron, he hit the tightest little two-yard draws over and over again. It was perfect.
"It just kind of tells you how Tiger was built. He won that tournament by 11 shots. The next morning he was up at 7 a.m. doing a clinic for everyone. It's wild because most guys win a tournament you're going out to celebrate, you're not waking up that early."
RELATED: How to follow all the action at TPC Sawgrass via TV and streaming
Lower then pivots the interview at TPC Sawgrass to talking about the recreational sport of bowling, which is huge in the Midwest.
"Off the golf course, I'm a pretty good bowler," Lower said. "I was in a formal league when I was 15 and I averaged 200 which was decent.
"I've never gotten a perfect game [300], 269 is my highest. I had an open frame, which means I didn't get a strike or a spare, and then I had 10 strikes. Then got a nine at the end of that. 10 strikes in a row is huge. Twelve strikes is a perfect game. As I got the eighth and ninth strike I started thinking, 'Wow, this is like getting real.'"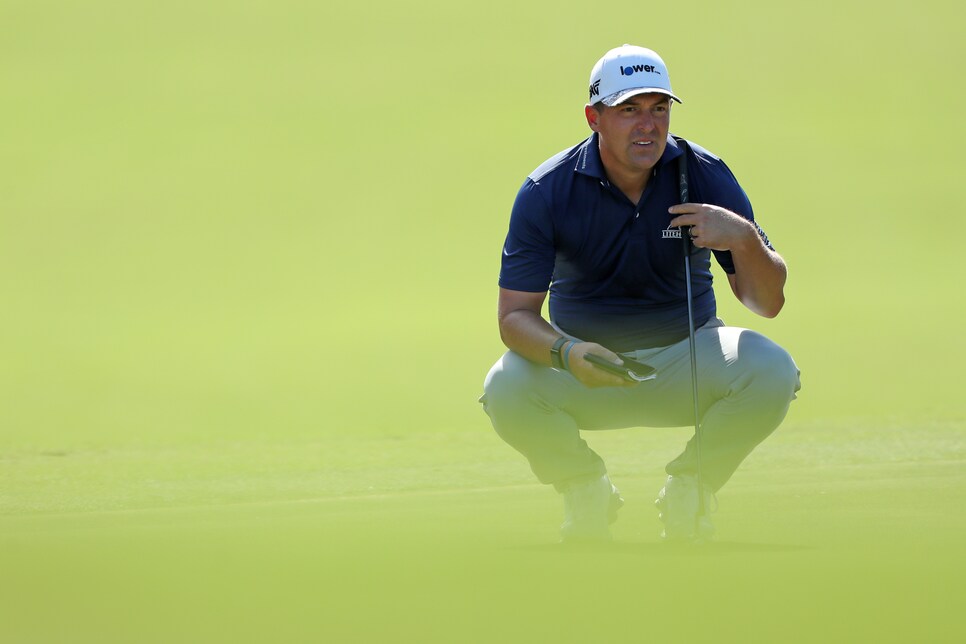 Courtney Culbreath
Then there is the aforementioned story of tragedy in the Lower family. When he was 15, before playing college golf for Malone University, he was waiting to be picked up at Lyons Den Golf Course, in Canal Fulton, Ohio, when his father, Tim, and brother Chris, were killed in a single-car accident. Lower used the Lyons Den course to overcome the grief. Staffers gave him a key to the shed so he could have unlimited access to range balls.
"I wasn't working on anything," Lower has said previously. "It was just therapeutic."
But the story does have a happy ending. Lower still lives in the Akron area and in 2014, Lower struck up a relationship with a cheerleader from his high school, Janise Sandrock. They married in 2019 and in December last year, the couple welcomed a baby girl, Ariana Lynn. Last week at Bay Hill was the first tournament where they travelled with the baby.
"That's been amazing," he said. "Maybe a few restless nights, but it's more for my wife than me. I sleep through anything. It's been amazing having [Ariana] here. My perspective has definitely changed since she's been born because it wasn't the easiest delivery process. So, she's definitely just a huge blessing in both of our lives."
The baby came just before Christmas and months after a stroke of good fortune on the course for Lower. Weeks after the three-putt at the Wyndham Championship kept him from a tour card and playing in the FedEx Cup Playoffs, Lower was given his card back thanks to the removal of six LIV Golf recruits from within the top 125 in the FedEx Cup. That's how he earned his way to a debut at the Players Championship,
RELATED: Max Homa reveals why he thinks the PGA Tour misses some LIV Golf characters
"I circled the Players in my calendar right away," he said. "I'm pumped to be here. It's a $25 million purse. You can't really ask for much more, on a great golf course and with good weather."
Lower was at the 2022-23 season-opening Fortinet Championship in Napa, where he held the lead after the first and third rounds en route to a T-4—the first top-five of his PGA Tour career.
He recorded another top-10 for the season at the Bermuda Championship but has struggled leading into the Players with four missed cuts from his past five starts. But Lower feels ready to turn it around.
"I think my best golf is still in front of me, which is nice to think of and I think I'm a lot better than what my performances show," he said. "I would say, don't be surprised if I make some noise at some point."