Charlie Saxon Wins Again, 2 for 2 on China Tour in 2018; Eyes European Tour for 2019
Charlie Saxon won the Bo Ao Open, the 2nd event of 2018 China Tour in Hainan on the 1st of April with a 23-under par, securing his second continuous triumph in this season's Tour. Luke Toomey from New Zealand finished 2nd with 21 under par and Suteepat finished 3rd with a -20.
Saxon started the final round in the leading position and grabbed five birdies and no bogeys all day, which is the best performance among the leader's group.
"I had some bad putting strokes today, especially those 12 to 15 feet ones, but I managed to avoid any bogeys today and played steady throughout the day," said Saxon after the final round.
"It's a long season, and there's a bunch of outstanding players here, who also have the chances to win as well so I need to play as well as I can throughout the year."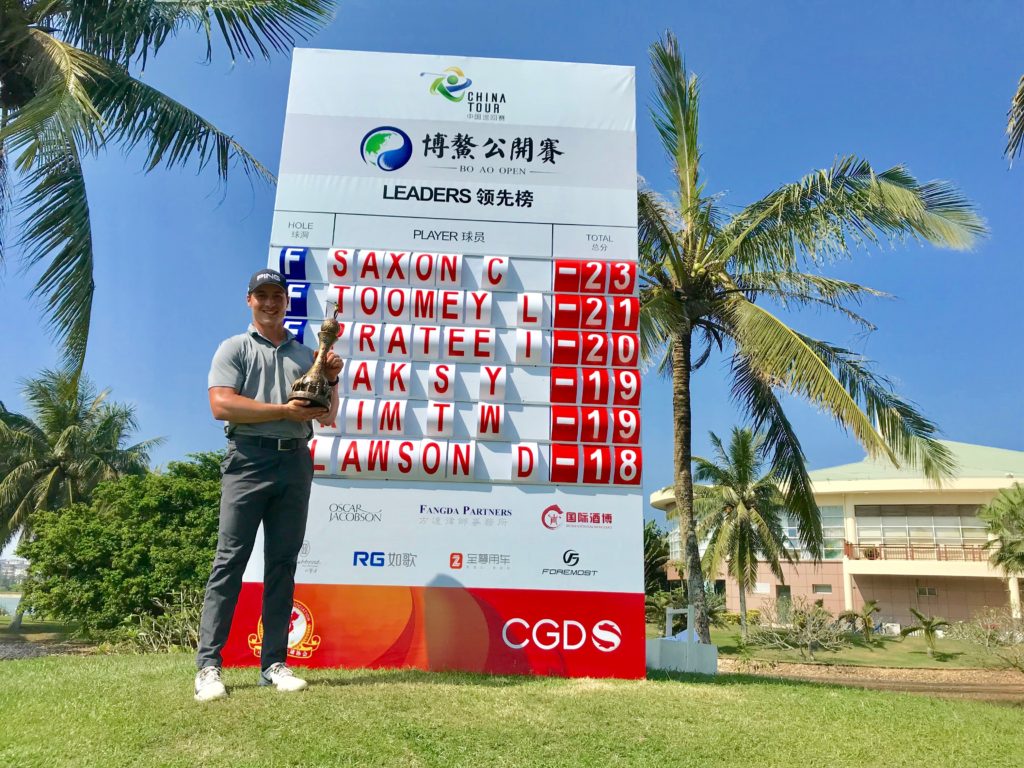 With his career goal set to enter the PGA Tour by the age of 30, Saxon participated in the event at the Yulongwan Golf Club 2 years ago during the 2016 season and finished 2nd. He said he had some good memories of the course and certainly will enjoy it in the coming event this month.
Luke Toomey from New Zealand, who grabbed four birdies and no bogies today, finished in the second place, said the 17th hole was the most intense one of the day. " After the birdie at the 16th hole, I was just 1 show behind Charlie. However, he played well at hole 17, and that gave me a lot of pressure."
Charlie's outstanding start on the China Tour affords him three starts on the Challenge Tour, the European Tour's version on the Web.com Tour. Those starts include:
April 12-15: Belt & Road Colorful Yunnan Golf Open, Kunming Yulongwan Golf Club,Kunming, Yunnan Province,China
October 11-15: Hainan Open, Sanya Haitang Bay Peninsular GC,Sanya, Hainan Island,China
October 18-21: Foshan Open Foshan Golf Club, Shishan Town, Nanhai District, Foshan City,China
If Charlie is able to maintain if #1 position on the China Tour at the season end, he will earn status on the 2019 European Tour.