Brandon Matthews Wins Order of Merit, Player of the Year Honors
TULUM, Mexico – Following a solid season of two wins and three top-fives in seven starts, American Brandon Matthews claimed PGA TOUR Latinoamérica Player of the Year honors Sunday to secure full status on the 2022 Korn Ferry Tour.
"Obviously this year has been great. I won twice and played some really good golf," said Matthews, who won the Puerto Plata Open in December and the Club at Weston Hills Open in June, in a span of three consecutive starts.
The 27-year-old Temple University alum managed to defend the Tour's top spot through the final stretch of a grueling season that lasted 500-plus days, beginning on March 5, 2020 and finishing on June 25, 2021.
"I'm very thankful for the officials and everybody who runs this Tour. I believe we are the only International Tour to finish a full season," Matthews said of the challenging, unusual season completed during the COVID-19 pandemic. "To give us the opportunity to succeed is really important and has been amazing for us."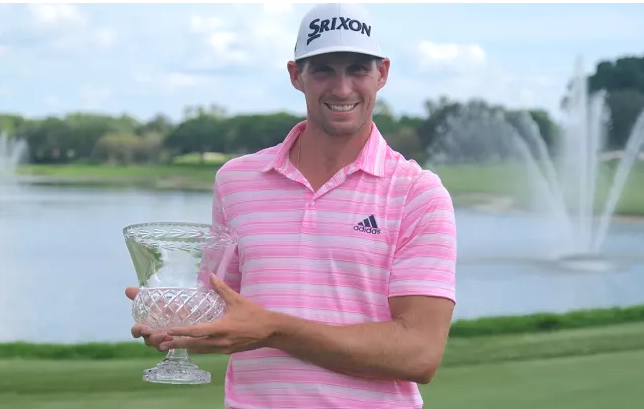 With a tie for 33rd at the season-ending Bupa Championship, Matthews collected a grand total of 1,191 points to close the year holding a 124-point lead. Money wise, the No. 1 player on Tour earned a paycheck in all seven of his starts, pocketing $74,534 in season earnings for a $7,684 lead.
"I did not miss a single cut on this Tour the entire year, which I'm proud of. I might have had a few bad holes here and there occasionally, but other than that it's been a solid two years of golf," says the man who has been on a consistent run since November of 2019.
Coming off a tough season on the 2019 Korn Ferry Tour, where he made only four cuts in 21 starts, Matthews traveled to Argentina to tie for fifth at the Neuquén Argentina Classic and finish second at the VISA Argentina Open, where he caught the golf world's attention when he gracefully embraced a fan with Down syndrome who distracted him while trying to make an eight-foot birdie putt to extend a playoff he lost to Colombia's Ricardo Celia.
Matthews reacts after a missed putt during a playoff at the 2019 VISA Open de Argentina at the Jockey Club in Buenos Aires, Argentina. (Enrique Berardi/PGA TOUR)
"I wouldn't have been able to get here if it wasn't for the way I finished 2019 out. I had a very tough year on the Korn Ferry Tour, I didn't play well at all; played with a couple of injuries, and I was able to come to Argentina and finish fifth and second to regain my status on this Tour," he said recalling that trip as a turning point in his promising career.
Having played as well as he did this season, Matthews is full of confidence heading into the future. He said he can't wait to get the 2022 Korn Ferry Tour season started in order to chase his lifelong dream of playing and being successful on the PGA TOUR.
"I feel like my game is trending upwards, and I feel like there's really no turning back for me where I am right now and the way I'm playing. I feel like the next few years are going to be really fun," he concluded with a grin.
Behind Matthews, the remaining four players inside the Points List top five also secured Korn Ferry Tour cards. They are Americans Sam Stevens (No. 2), Conner Godsey (No. 3) and MJ Maguire (No. 5). Finishing in fourth place, Mexico's Alvaro Ortiz was the leading player from Latin America this season.
note: this article written by Gregory Villalobos for PGATOUR.com and originally published here