Maxwell Moldovan Named to Team USA for The 2023 Palmer Cup
COLUMBUS, Ohio – Ohio State junior Maxwell Moldovan has been selected to represent the United State at this summer's Palmer Cup. The event will be held June 8-10 at the Laurel Valley Golf Club in Ligonier, Pa.
The event, which started in 1997, is a Ryder Cup-style tournament featuring the top men's and women's university/college golfers matching the United States against a team of International players. Beginning with the 2018 matches at Evian Resort Golf Club, the Palmer Cup is the only major tournament which features men and women playing side-by-side as partners.
Moldovan is having a career year for the Scarlet and Gray. He set the school's single-season scoring record each of his first two seasons and is on pace to go even lower this season. He is averaging 70.53 strokes per round over 30 rounds and has posted eight Top 10 and five Top 5 finishes in 10 events. His 12 rounds in the 60s this year are twice as many as anyone else on the team and he has increased his school-record to 34 career rounds in the 60s.
The Uniontown, Ohio native is currently ranked No. 28 in the World Amateur Golf Rankings. He earned All-American honors last season and will likely become a three-time All-Big Ten honoree next week.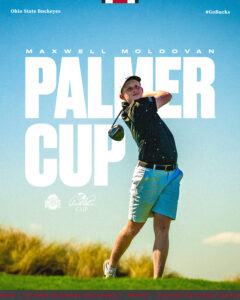 Chris Wollmann and Will Grimmer are the only other Buckeyes to play in the Palmer Cup. Wollmann played in the inaugural event in 1997 at Bay Hill, leading the US to a resounding 19-5 victory as he went 2-1-1 in four matches. Grimmer played in 2019 at the Alotian Golf Club in Roland, Ark. He went 1-2-1 that week as the international side won 33.5–26.5. Legendary Buckeye head coach Jim Brown was a head coach for the US side in 1999 while former director of golf Therese Hession was a head coach in 2018.