Lauren Thompson Hosts the Berenberg Invitational Which Raised $750,000 for Pancreatic Cancer Research
Berenberg, the world's second oldest bank, utilized their presence in New York to host professional golfers and clients for the Berenberg Invitational to raise invaluable funds for charitable causes. Lauren Thompson served as the event emcee and host of the evening gala.
This year's Berenberg Invitational at GlenArbor Golf Club raised $750,000 for pancreatic cancer research at the University of Nebraska Medical Center and Nebraska Medicine, bringing Berenberg's combined donation over two tournaments to $1,450,000. The support from Berenberg to the University of Nebraska Medical Center and Nebraska Medicine will help the latter explore new medical concepts that may lead to novel findings for drug discovery, development of biomarkers, and a better understanding of the genomic complexities of pancreatic cancer.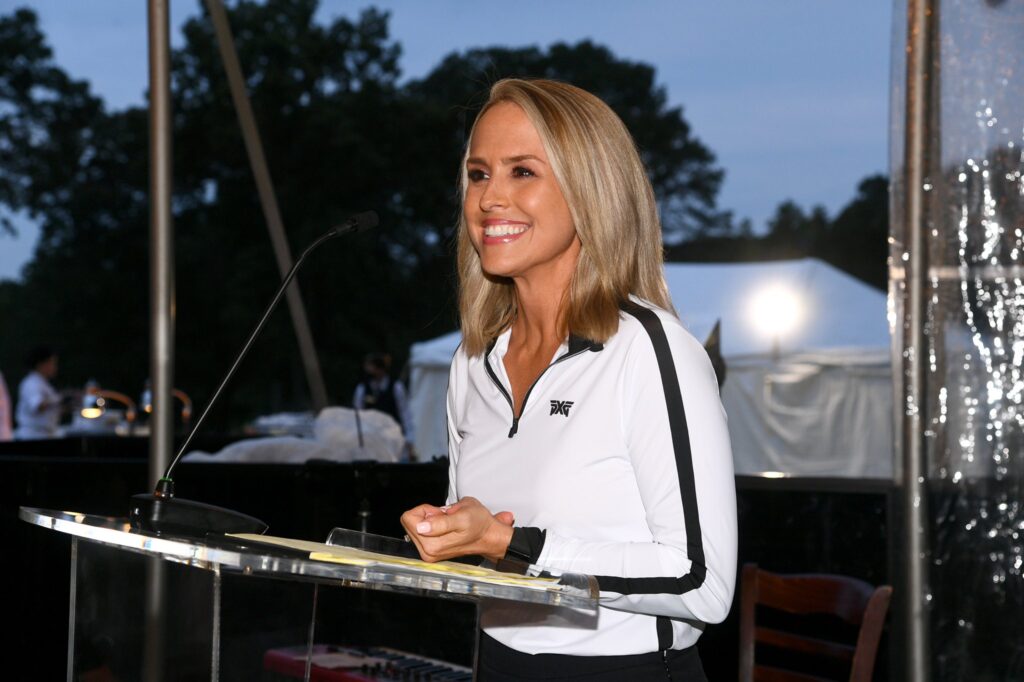 The all-star field of 28 professional golfers competing featured eight Masters champions and some of the biggest names in golf history, including major championship winners Gary Player, Tom Watson, Fred Couples, Mark O'Meara and Bernhard Langer, all of whom are ambassadors of Berenberg. The field also included the Presidents Cup International Team captain, Trevor Immelman; Masters winners Mike Weir and Larry Mize; three-time U.S. Open winner, Hale Irwin; U.S. Women's Open champion, Brittany Lang; and the only golfer in history to have been awarded Player of the Year on all three PGA Tours, Tom Lehman. The team captained by Fred Funk and Emma Cabrera-Bello, pictured, bested the field by a slim margin.
"UNMC and Nebraska Medicine's partnership with Berenberg is vital to our research on the molecular complexities of pancreatic cancer and our continuing efforts in early detection of the disease," said Dr. Sunil Hingorani, director of the UNMC Pancreatic Cancer Center of Excellence and Nebraska Medicine pancreatic cancer program. "The Berenberg Invitational is especially meaningful because this cause is deeply personal to several of the professional golfers who participate in the tournament annually, as it is to me."
David Mortlock, Managing Partner at Berenberg added, "we are proud of the opportunity to raise funds for a very worthy cause while spending time with our clients in a unique and meaningful way. Our focus on charitable efforts will never waiver, and our Berenberg Invitational would not be possible without the generous contributions made by both our clients and an incredible field of participants."
Berenberg has held an annual charity golf event in New York featuring legends of the game for nearly a decade.
Participants
Men
1. Gary Player
2. Tom Watson
3. Fred Couples
4. Mark O'Meara
5. Bernhard Langer
6. Hale Irwin
7. Jeff Sluman
8. Tom Lehman
9. Mike Weir
10. Nick Price
11. Trevor Immelman
12. Colin Montgomerie
13. Larry Mize
14. Fred Funk
Ladies
1. Cheyenne Woods
2. Blair O'Neal
3. Brittany Lincicome
4. Camilla Lennarth
5. Cassandra Meyer
6. Annie Park
7. Charley Hull
8. Emma Cabrera-Bello
9. Brittany Lang
10. Annabel Dimmock
11. Lauren Taylor
12. Susana Benavides
13. Kyle Roig
14. Averee Dovsek