Justin Lower Q&A with PGATOUR.com
Justin Lower is used to it by now. People just can't pronounce his last name correctly.
It rhymes with 'Power.'
And since he's inside The 25 at the halfway point of the Web.com Tour's 2019 season, he's hoping that a trip to the PGA TOUR will make sure no one mispronounces his name again.
Lower has four top-25 finishes this year, including a runner-up result at the Chitimacha Louisiana Open presented by MISTRAS, which was his best-ever Web.com Tour finish.
The former baseball player still loves the game – he threw out the first pitch at a Cleveland Indians game last year – along with all the sports teams from Cleveland. He's also got some great stories of watching the WGC-Bridgestone every year at Firestone as a youngster. And, he's moved back to Ohio recently as he prepares to marry a girl he's known since high school, Janise, this September.
But Lower has also experienced terrible loss, with his father and younger brother dying in a car accident nearly 15 years ago.
The 30-year-old spent a few minutes with PGA TOUR Digital chatting about all the highs, and one tough low, in his life to this point.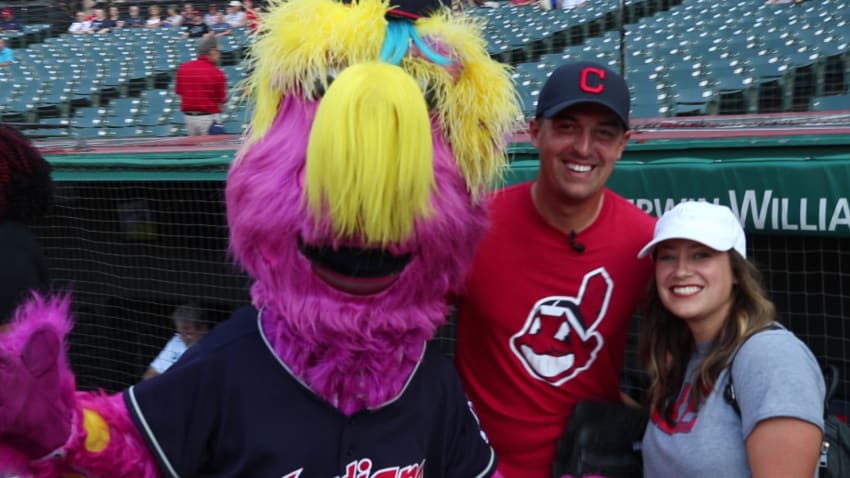 FeaturesLifelong Cleveland sports fan Justin Lower throw Indians first pitch
How would you assess your 2019 season?
I want to be more consistent. I feel like I play well on the weekends, so I feel like if I can get into a winning mindset beforehand, I don't have to worry about getting into the weekend and playing well. I told my fiancée, I hate missing cuts. I have FOMO about it (laughs). I want to play on weekends. I just want to play every weekend because I feel like it's more fun on the weekends. The crowds get more into it. It's just more fun for me. It has been an inconsistent year, but it has had some bright spots like the second-place finish in Louisiana, but I'd really like to be more consistent.
To be more consistent, is it something you need to work on golf swing-wise, or mentally?
It's the mental approach/attitude for sure. (In Knoxville) I didn't have the best attitude and that hurt, for sure. I liked (Fox Den Country Club) and I feel like I could have done really well. I've had success there before. I was pretty disappointed with myself. I'm just trying to have a good mental attitude about everything – especially a positive attitude. I'm just trying to build on that for sure.
When did you realize, growing up, that you wanted to make a living out of playing golf?
In high school, you always dream about it, same with college. I didn't think I could do it until my junior year of college. That's when I started playing really well and shooting low scores … not really consistently but it would pop up more often, which was nice. You get that confidence. I had a really good year my junior year of college and that gave me the confidence to know I could do it.
Growing up in the northern U.S., what did you do in the winters?
In college I would hang (my clubs) up a bit. We had indoor facilities we'd go to in college, and I still go to some of the same ones. I just recently moved back to Ohio last July, so I spent all this past winter mainly up there. I came down to Florida about a week before the Bahamas, mainly just to get some reps in on grass (laughs). I was able to play quite a bit (in Ohio) but it's not the same. It's nice to actually play and see the ball actually fly and not hit a net 70 yards in front of me. In college I'd hang them up and play basketball or just do indoor stuff and hit the gym. Now that it's my livelihood, I'm a little more serious at it and don't put (the clubs) away for too long, maybe a day or two. I've got a good system of places up north I can go to. Luckily enough the basement in our new house is big enough (where) I can swing. I've put a net in there and kind of made a makeshift putting green. It's maintenance stuff; I'm not really grinding down there.
Why did you decide to move back to Ohio?
I'm getting married in September and it's just hard on my fiancée. We're gone for long periods of time so it was just easier to be close to family for the both of us, not just her. It's a nice change. We were in Charlotte, North Carolina before that which was nice; the weather was good and we loved it, but we just wanted to be closer to family.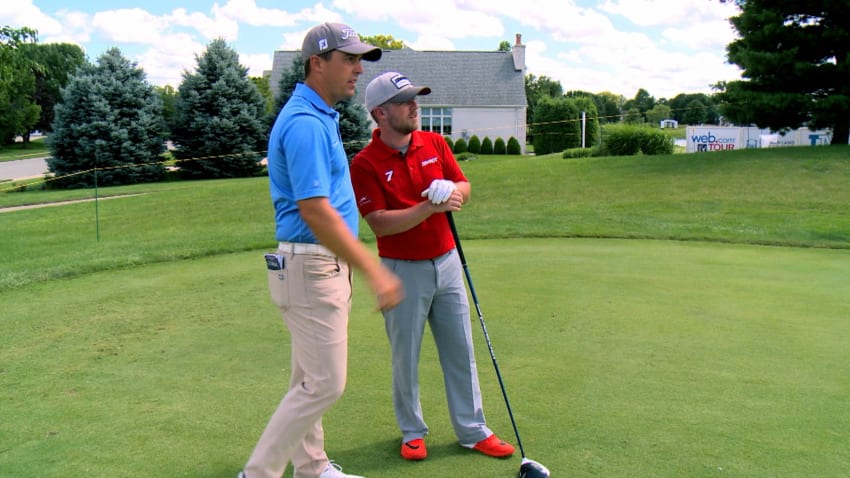 FeaturesJustin Lower and NASCAR driver Justin Allgaier swap driving lessons
How did you guys meet?
We actually went to high school together but there was no romantic interest. Not even a friendship interest, really. She claims I didn't talk in high school, but she was the one who wouldn't even talk to me back then (laughs). We grew up in the same small town and we kept in touch. We got talking again at the end of 2013 and started officially dating in the beginning of 2014.
Speaking of Ohio, how excited are you for all the moves the Cleveland Browns made this offseason?
Oh my gosh. It's exciting for sure. It's kind of like the Cavaliers were the past couple years before LeBron left again. With northeast Ohio in general being a football town, it could be really exciting if they start to play well. It's a lot of talent on paper and I'm a little worried about that. Hopefully it'll translate over, especially with a first-year head coach; that kind of worries me as well, but I think we've got the right tools for sure. We just need to get everyone to gel together. And the schedule is somewhat brutal. I would be happy with 10-6, I think it would secure a wildcard spot and maybe get the division. I think Pittsburgh will hold their own; they always have our number. I don't think Cincinnati is anything to worry about. Baltimore is on the downfall – but what do I know? (laughs).
Did you play other sports growing up?
I played baseball growing up. I thought I was pretty good at it. I batted leadoff and played second base and I would play outfield from time-to-time. I loved playing baseball … It was all I wanted to do up until I was 12 or 13. I just loved playing Little League and I played on travel teams and I had a lot of fun doing it. But I would always get into hitting slumps when golf season would start back up, and that's not really what you want your leadoff hitter to be (laughs).
Were you so good at baseball that you had to formally choose between the two sports?
I had to choose and it was a tough decision, but I chose golf. I liked the individual aspect of golf more. It's all on you. And the competitiveness of it … I like to compete, at anything really. That's what I liked about it for sure.
Making Northeast Ohio proud.

Justin Lower (@JustinLower_1) came through in the clutch to secure a spot in the top 45 at Final Stage … and guaranteed #WebTour starts in 2018.4711:08 PM – Dec 10, 201715 people are talking about thisTwitter Ads info and privacy
One of your earliest memories of professional golf is watching Tiger Woods at Firestone Country Club, where they hosted the WGC-Bridgestone for many years. What do you remember most?
I just remember going there every year with my dad; we'd go once, maybe twice in a week when it came to town, and then I started volunteering for the tournament so I would get more access that way. I think I volunteered for the Bridgestone one year and then for the Senior PGA Championship in 2002 when it came to town. With Tiger, I remember the shot in the dark – I was there earlier in the day, but I left when the rain delay happened. I remember being there Friday when he shot 61, and Saturday he started birdie-eagle-birdie but then he parred out. It was just craziness. He was lapping the field. He played with Jose Maria Olazabal who had the course record, but Tiger tied it. Jose Maria was in contention but then Tiger, in typical Tiger fashion, he grew the lead and never relinquished it. He played with Hal Sutton the last day in 2000, and I remember going to a clinic he put on the Monday morning before he left and they had it at the public nine of Firestone. He was hitting on the back of the green down the fairway. The way that green is, it's kind of a stadium setting so everyone was sitting on grass. It was pretty cool; it was him and Butch Harmon. That's what I remember about it for sure.
Since you just turned 30, I assume Tiger is the main professional golfer who inspired you growing up?
Oh yeah, for sure. You ask anyone out here and Tiger is the answer. It's crazy because even some guys who don't like him, you still see his mannerisms. When you hit a bad shot, he made it cool to finish one-handed. Walking in putts. Fist pumps. Even if you don't like him, the mannerisms bleed into what you're doing because he made it look so good and effortless. He is the needle of golf, and 99 percent of the time it's for good reasons.
Tell me the story about throwing out the first pitch at the Cleveland Indians game?
It was the week of the DAP Championship, and it was on Tuesday. I've never been on field level at a major league setting. I think I played it wrong (laughs). I like to be on time, but I got there way too early. They kind of iced me. I was nowhere near ready to throw out a first pitch. No warm-up, no nothing. There were four pitchers in front of me, and two were under the age of eight and they both got it over the plate. I had to put some air under (my pitch), I thought, because if I didn't make it over the plate I was going to look like a moron. I didn't throw it near as hard as I wanted to. I didn't lob it, but I didn't wing it in there. It may have been a strike, it may have been a ball – might have been a borderline call.
How well do you know your Latin America countries?

Christian Brand (@SeeBrand) and Justin Lower (@JustinLower_1) put their knowledge to the test.2511:26 AM – Feb 1, 2018See Web.com Tour's other TweetsTwitter Ads info and privacy
If you do it again, you know what time to show up at now, at least?
Yes, absolutely! I went for batting practice beforehand, to watch. Then we had to leave, and I had to go back and check-in again to throw out the first pitch. We went down this long tunnel and they gave me the ball and were very adamant I hold on to it. Then they're like, 'You can go on the field now,' but I felt like I was out there for half-an-hour. I had friends calling me from different parts of the stadium: "Look in right field!" and I saw five people standing there waving at me. It was kind of crazy.
I wanted to look around and take it all in, but I know they were pressed for time since I was the fifth pitch … just get it over with. I kind of did a little peek around, like, "Wow, this is pretty cool," but I knew they were pressed for time.
With almost 15 years having gone by since you lost your father and brother to an accident, do you still feel the pain of that loss every day?
I would say it comes every other day. There are weeks that are worse than others, days that are worse than others. Like Father's Day, it's not easy. My brother's birthday. My dad's birthday. Easter. The holidays and their specific days aren't easy, just because it's family and those days are meant to be spent with family. It's tough, but I have a great support system.
I think about them all the time, especially my brother. He was only 10 and he was five years younger than me, so it would have been really nice to have that relationship with him now. Now he'd be 24 going on 25 and … would he be caddying for me? Would he be traveling with me some weeks? Who knows where he'd be now? I'll be honest, I see other guys have their dads out here … and it's not jealously or envy, but just that I wish I would have one week with him out here. It'd be cool. Then I hear of stories around the world and the country where someone says, 'Yeah I haven't spoken to my dad in like 10 years.' You know what I would give to speak with my dad just one time? It's a different perspective on life for sure.
How has that support system been?
They've been great, especially my mom. It was a huge growing process for my mom and I. It was always my dad and myself and my mom and my brother. Once the accident happened, we weren't like, re-introduced to each other but we were like, 'Wow – nice to see you again.' I grew really close with my mom once it happened. People around where I grew up, like the owner at my home golf course … he became a pretty close friend of mine. Just friends that I've had since that day, they've been nothing but supportive.