Justin Lower Partners with Woodmen Financial to Raise Funds for Ohio Guidestone
THE POWER OF THREE
PRO GOLFER AND FINANCIAL TITAN TO SUPPORT OHIO NON PROFIT 
Cleveland, Ohio, January 12, 2018 – Modern Woodmen – Fraternal Financial and OhioGuidestone, a nonprofit that serves over 36-thousand families, announce a partnership with professional golfer and Ohio native, Justin Lower. 
Partnership
The collaboration offers various components such as  raising funds to help children and families served by OhioGuidestone and public awareness of the excellent work of both OhioGuidestone and Modern Woodmen, Fraternal Financial.
Specifically, Modern Woodmen plans to donate $100 per birdie Justin Lower makes on the 2018 Web.com Tour to OhioGuidestone. In addition, Lower plans to sport both organization logos on his apparel during the Web.com Tour.  For Lower, the partnership is part of his journey.
"I had the opportunity to visit some of the youth served by OhioGuidestone," said Lower. "I was so impressed with the work OhioGuidestone is doing to help break the cycle of poverty for Ohio children and families, I knew I wanted to find a way to be involved and help out. It really put things in perspective for me, of just how fortunate I am to chase my dream as a professional golfer."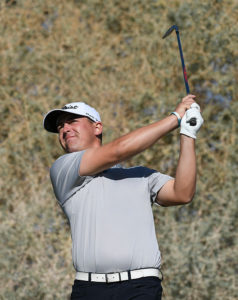 Justin Lower, professional golfer
Since 1883, Modern Woodmen – Fraternal Financial, a financial planning giant, has brought people together and supported communities. They are the nation's third -largest fraternal benefit society in terms of assets. This new partnership builds upon its current relationship with OhioGuidestone,
"Supporting OhioGuidestone's children and families has been an honor and a privilege for our fraternal members. Our joint passion to strengthen families and communities continues to grow through our partnership, and we are delighted to give back in this new and innovative initiative." – Brian Souder, Managing Partner, Modern Woodmen – Fraternal Financial.
OhioGuidestone is a 154-year-old non-profit organization that helps families, children and individuals who face some of life's most challenging situations, including mental illness, addiction, abuse and behavioral issues. Headquartered in Berea, Ohio, we have grown to serve over 36,000 children and families in Ohio.
"We are honored to have this national platform to showcase the great work we accomplish in Ohio and grateful for the generosity of Modern Woodmen – Fraternal Financial. We give Justin  all of our heartfelt support as he golfs for our kids." – Cindy Naegele, Vice President of Advancement and Communications for OhioGuidestone
 Justin Lower
Justin Lower is a native of Canal Fulton, Ohio and a graduate of Malone University where he was crowned National Champion, and was recognized with the Jack Nicklaus and David Toms Award as one of the top college collegiate golfers in the country. In 2018, Justin will play full-time on the Web.com Tour. PGA Tour stars such as Jim Furyk, Keegan Bradley, Zach Johnson, Jason Day and many more once competed on the Web.com Tour on their path to the PGA Tour.